Dylan Ryder's Photos and Videos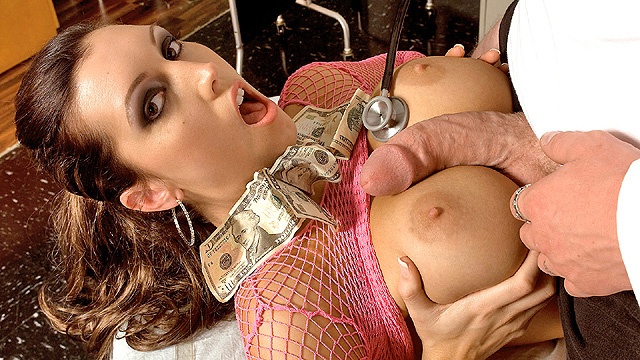 Medical care costs big bucks and sometimes, depending on your line of work, you might not get worker's compensation if you are injured on the job. This is especially true for some of the hardest workers, or rather, hard-on workers otherwise known as big-tit hookers. These gals pound the pavement and cocks with all they got and they need a little TLC from a doctor every now and then. But how to pay those high medical costs? The same way that these hookers pay for everything else...with their pussies. Watch as Dylan Ryder gets a check-up and a dick-down all in one appointment. Hooker pussy: Accepted everywhere.
More Big Tits »
A girl's gotta do what a girl's gotta do. Even if that means she has to stand on the side of the road and offer up her goodies to the cars that zoom by. That's what Dylan Ryder does. She is strapped for cash and instead of pawning some jewelery or getting a part-time job, she is putting her pussy up for sale. Hey, wouldn't you do the same if you needed money to do something uber-important...like get your nails done? You can't blame Dylan for going out and fundraising via fucking. She is built for sin with big, juicy tits, a pouty mouth that practically belongs wrapped around your shaft and a pussy that will squeeze every last drop out of your nuts. But be careful...this gold-digging ho will squeeze every last dime out of you, too. But then again, it might be worth it.
More Big Tits »
Dylan Ryder on Other Sites