Sara Jay's Photos and Videos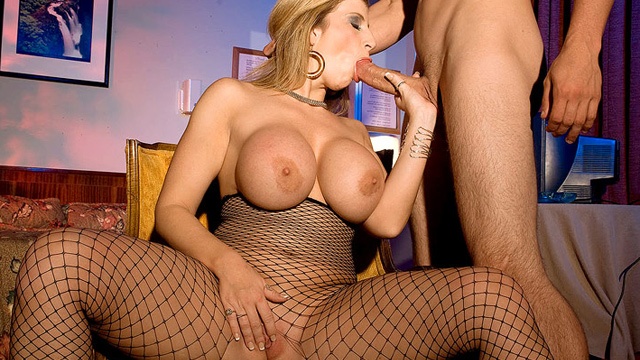 "How come everybody always wants to dress me up like a hooker?" Sara Jay said, giggling the last time she visited us. Because you look like a hooker, Sara, with your big tits, huge ass and slut face. Because you talk like a whore and suck dick like the street hooker of our dreams. And look at how great Sara looks in fishnets, the official uniform of streets sluts everywhere. "I love the idea of picking up strange men and sucking their cocks," Sara Jay said. "It's even better when you add the idea of them paying for it. It makes me feel like such a slut." Sara Jay, you feel like a slut because you are a slut. You do such a good job of playing the part of street hooker because the fantasy isn't very far from the truth. Sara, you were born for the role.
More Big Tits »
Sara Jay is the hardest-working hooker in ho business. She pounds the pavement looking for a man with the bucks to pound her cunt. And lo and behold! She bumps into this perverted businessman who is looking for a little bit of busty business, man. She approaches him and he starts trying to strike a bargain with Sara right away. Sara lets him know that he can't nickel and dime good pussy and hops into his car for their rendezvous in an abandoned garage. Not only does she lay that pussy and those tits on him, but she also talks to him about add-ons that will cost him only a little bit more but are guaranteed to give him pleasure. That's right, Sara Jay is a hooker with upgrades. For just a little more dough she gives an extra blow. For just a little more cash you can work that ass. These are a pair of perkies that come with perks.
More Big Tits »