Veronica Rayne's Photos and Videos
Almost anyone can afford one street hooker. Most can afford two. But three? Well, you'd better get your best buddy involved in that one, because that's every man's dream. In this case, Veronica Rayne, Whitney Stevens and Candace Von, all of whom play the role of busty street slut very convincingly, fulfill the fantasy. Too convincingly. Now, fill in your fantasy. Fuck one of them or fuck all of them? Tag team 'em with your buddy or do 'em all together? Fuck their tits, fuck their mouths or fuck their pussies. Whatever you choose to do, this much is certain: Everybody's going to have fun, everybody's going to cum and everybody's going to get paid. That's the great thing about street sluts. They always give you what you want.
More Big Tits »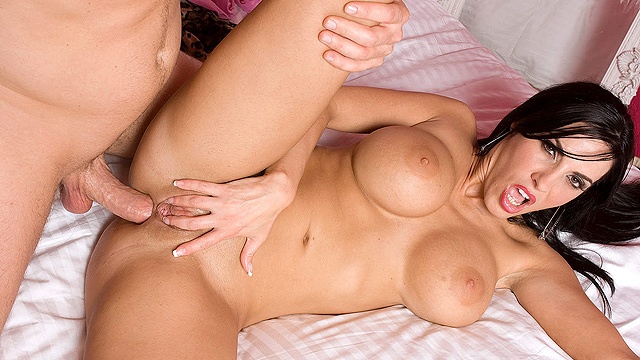 What is a street corner skank? Well, if you guessed that it's a woman of ill repute who barters her ass, tits and pussy for cold, hard cash, then you guessed right. And of all the skanks you will ever see on any street corner, Veronica Rayne is one of the classiest of them all. This chick really knows how much she is worth and really values herself. Yes, if you were to ask her how much it would cost for you to dick her down and have her suck your cock like her life depended on it, she would tell you it would cost a whopping $100. Yes, that's right, a whole sum of 100 smackers to smack your cock on her face. Yeah, we were blown away by that dollar amount, too. While her street competition is quoting amounts up to triple that, Veronica understands that we are in a recession and that the average consumer wants a fucking bargain...literally. So she is willing to give you the deal of a lifetime. For only five crisp twenties, you can get your knob slobbed on, grip and suck on those huge funbags, do whatever you want to her juicy, pink clam and then stuff your cock into her box. But wait, there's more! If you impress her with your ability to bang her like the hooker ho she is, then she will cut you a break. Yes, there are more deals in this girl than a 3 a.m. infomercial. For just $50 more, you get not one hole, but two! Veronica is wheelin' and dealin' her asshole out, too. So pull out $150 gentlemen and pork this piggie for all she's worth. And don't forget to tell your friends. Who knows, maybe she'll give you a group discount!
More Big Tits »
Veronica Rayne on Other Sites