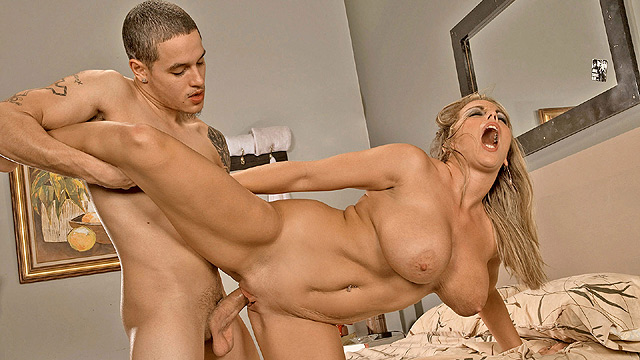 Ever get that feeling, like you're never going to find Ms. Right? Like, that wonderful lady you are supposed to ride off into the sunset with is never going to show up? Like you are never going to be able to say, "You complete me," to some amazing woman, and mean it? Well, hate to bust your bubble, friend, but chances are, you are right. Ms. Right is probably not coming your way. But here is a consolation prize...Ms. Right Now. You see, Ms. Right Now is just around the corner. Actually, she is ON the corner. Ms. Right Now is a modified version of Ms. Right and she comes with lots of perks, and that includes HUGE perky titties, too. You can tell Ms. Right Now to suck your dick, to lick your sack and to gobble up your nutritious load, and you know what? She will. And you don't have to spend a whole paycheck on a ring, either. Because Ms. Right Now is yours with only a small, one-time payment. So why waste your time on daydreams? Stop thinking about the what if's and start thinking about huge tits. Go out and find your Ms. Right Now...she is on a corner near you.
More Big Tits »
This isn't the way you expected your day to go. You were just going out for a ride. Sure you were. And you saw this chick standing on the sidewalk. White chick. Looked like she could be a college student, except for one thing: She was dressed like a hooker. And had big tits. That's what got your attention. That and the look on her face that said, "You can have me for a price." So you head off to the ATM. Take out some money. Driving back and hope she's still here. She is. You negotiate, and she hops in. Her name is Whitney, and you tell her, "I don't have time to go to a motel," to which she responds, "That's okay. We can sneak into the men's room in this building." You've never done that kind of thing before, but you're not about to ask questions, not when your cock is begging for relief. Which Whitney, your street hooker, is happy to give.
More Big Tits »
In the year 2060, you will no longer have to go out on the hunt for tits and cunt. Why? Because in the year 2060, the hookers come and find you. Isn't that nice? So imagine you are minding your own business and you suddenly have the urge for a sloppy blowjob and some experienced poontang. All you have to do is put out the alert and the hooker closest to you will come and lay it down. It's kind of like when you need a plumber or a handyman and you call one in for a service call, except a hooker of the future will service your cock. Watch Carly, a pretty blonde hooker, fuck and suck this guy like it's no big deal. We can't wait until the day this fantasy becomes reality. It's a nice thing to imagine when thinking about the future. Puts a spin on the idea of cumming attractions.
More Big Tits »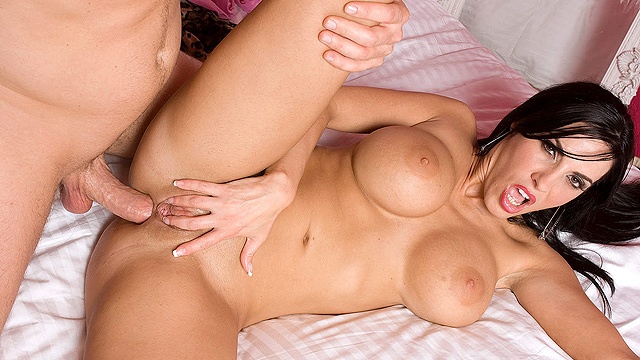 What is a street corner skank? Well, if you guessed that it's a woman of ill repute who barters her ass, tits and pussy for cold, hard cash, then you guessed right. And of all the skanks you will ever see on any street corner, Veronica Rayne is one of the classiest of them all. This chick really knows how much she is worth and really values herself. Yes, if you were to ask her how much it would cost for you to dick her down and have her suck your cock like her life depended on it, she would tell you it would cost a whopping $100. Yes, that's right, a whole sum of 100 smackers to smack your cock on her face. Yeah, we were blown away by that dollar amount, too. While her street competition is quoting amounts up to triple that, Veronica understands that we are in a recession and that the average consumer wants a fucking bargain...literally. So she is willing to give you the deal of a lifetime. For only five crisp twenties, you can get your knob slobbed on, grip and suck on those huge funbags, do whatever you want to her juicy, pink clam and then stuff your cock into her box. But wait, there's more! If you impress her with your ability to bang her like the hooker ho she is, then she will cut you a break. Yes, there are more deals in this girl than a 3 a.m. infomercial. For just $50 more, you get not one hole, but two! Veronica is wheelin' and dealin' her asshole out, too. So pull out $150 gentlemen and pork this piggie for all she's worth. And don't forget to tell your friends. Who knows, maybe she'll give you a group discount!
More Big Tits »
So you're driving along, minding your business, when all of a sudden you see a bargain buy on the side of the road that you just can't say no to. It's one of those "I gotta have it!" impulse buys that make you reach for your wallet before you have even thought it through. What is it, you ask? No, it's not a boat. Nope, it's not your dream car. It's a blonde, bimbolicious, mega-racked hooker who is spilling out of her too-tight, too-short purple dress. And guess what? She is so reasonably priced that you can afford her right then and there, without even having to go to the ATM. This working girl is all business and takes you to the hotel ASAP because she can't wait to suck your sac and rod, man. And boy does this trick suck dick! She is the type of ho that talks with her mouth full, saliva dribbling out of her mouth, while she tries to push your dick even further into her throat. We don't know about you, but that sounds like a good convo to us! Carly (her hooker name, of course) is not only a skeezer, but she is also a pleaser, taking her time to inquire how you would like it like she was taking your fast food order. "How would you like your blowjob today, sir?" She gives a vigorous cock-sucking performance and then hops on for the ride of her life. With her exuberant fucking, and her scandalous dirty talking, we have to say that Carly really does work hard for the money. One of the better hookers we've come across.
More Big Tits »