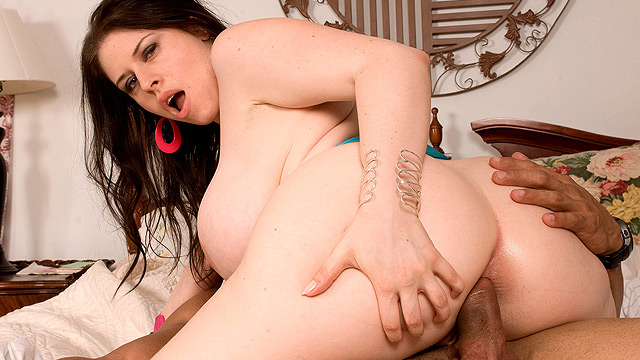 Daphne Rosen is one of our favorite big titted hookers of all time because she is fuckin' good at, well, fucking. She fucks like she means it. Nothing is spared to bring about the hottest and hugest load that she can. She uses her mouth first, sucking and coaxing the cock with her tonsils. She uses her hands, giving the dick a firm grip and some serious tug-action. She puts the penis in a choke hold with her vise-tight cunt, taking a pounding like an old-school wrestler. And just when you think she might be down for the count, she flips around and says, "Fuck me in the ass, Honey!" and she lays down the ass-tunnel on this pipe like a champion. And she knows that to want not, one must waste not, too. That's why she doesn't let one drop of that cum go to waste. Not one splattering because all that fucking makes her tired and she takes a mouth-load of vitamin cum, since it's chock-full of protein. Yes, Daphne Rosen is a five-star whore and we love her and her jaw full of jizz!
A girl's gotta do what a girl's gotta do. Even if that means she has to stand on the side of the road and offer up her goodies to the cars that zoom by. That's what Dylan Ryder does. She is strapped for cash and instead of pawning some jewelery or getting a part-time job, she is putting her pussy up for sale. Hey, wouldn't you do the same if you needed money to do something uber-important...like get your nails done? You can't blame Dylan for going out and fundraising via fucking. She is built for sin with big, juicy tits, a pouty mouth that practically belongs wrapped around your shaft and a pussy that will squeeze every last drop out of your nuts. But be careful...this gold-digging ho will squeeze every last dime out of you, too. But then again, it might be worth it.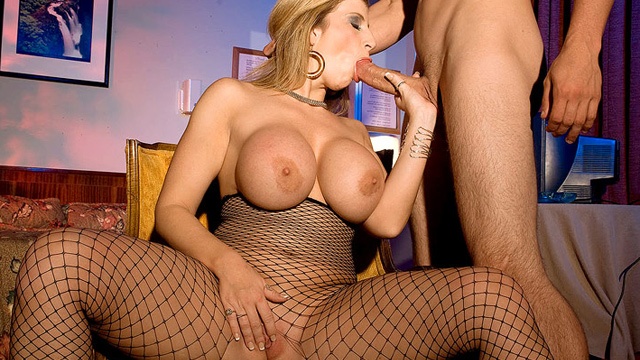 "How come everybody always wants to dress me up like a hooker?" Sara Jay said, giggling the last time she visited us. Because you look like a hooker, Sara, with your big tits, huge ass and slut face. Because you talk like a whore and suck dick like the street hooker of our dreams. And look at how great Sara looks in fishnets, the official uniform of streets sluts everywhere. "I love the idea of picking up strange men and sucking their cocks," Sara Jay said. "It's even better when you add the idea of them paying for it. It makes me feel like such a slut." Sara Jay, you feel like a slut because you are a slut. You do such a good job of playing the part of street hooker because the fantasy isn't very far from the truth. Sara, you were born for the role.
In the year 2060, you will no longer have to go out on the hunt for tits and cunt. Why? Because in the year 2060, the hookers come and find you. Isn't that nice? So imagine you are minding your own business and you suddenly have the urge for a sloppy blowjob and some experienced poontang. All you have to do is put out the alert and the hooker closest to you will come and lay it down. It's kind of like when you need a plumber or a handyman and you call one in for a service call, except a hooker of the future will service your cock. Watch Carly, a pretty blonde hooker, fuck and suck this guy like it's no big deal. We can't wait until the day this fantasy becomes reality. It's a nice thing to imagine when thinking about the future. Puts a spin on the idea of cumming attractions.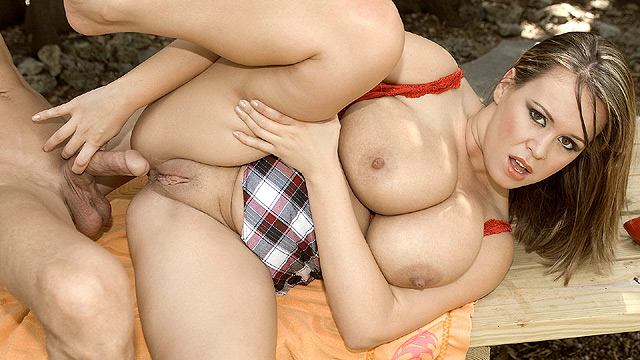 Some people take long walks in the park. Some people go and play sports in the park. Some people even go to the park and just sit and enjoy the scenery and the weather. But not this guy. This guy goes to the park to fuck. And who can blame him? When you get a chance at sinking your spear into a snatch as sweet as Brandy's, how can you refuse? Granted, this guy paid for this pussy, but who is keeping score? Just the fact that he wants to forgo tiptoeing through the tulips and get straight to busting his nut on a park bench shows that this guy enjoyed his purchase and wanted to get as much use out of it as possible. We say, get your money's worth, kiddo.