Latest Hooker Videos (Page 2)
We live in a world of convenience and we like what we want, when we want it. For example, when you want a nice, juicy burger, you can just pull in to your local drive-thru and order it. If you want to pick up some prescriptions, you can just mosey on over to your local pharmacy's drive-thru and get your meds. So why not incorporate that into how we get ass? How convenient would it be to just pull up to a corner nearby and order up some juicy cooze to go? That's exactly what this guy does. He pulls up to choco-licious Stacy Adams, working her wares on the ave, and he says, "I'd like some mocha poon to go, please. And a side of titties, too, super-sized. Thanks." And she jumps into his car and then on his cock in the motel a few minutes later. And when he is done with his quickie, he tells her to book and that's because just like fast-food containers, hookers like Stacy are disposable. Doesn't that sound quick and easy? You betcha. All hookers should be quick and easy.
More Big Tits »
Here is something almost unbelievable: Rich guys with millions of dollars need to hire hookers to get some action. (Yeah, cause the fact that they are rich just doesn't cut it with your average gold-digging slut. They have to pay for sex.) But, we are not going to argue with that since most chicks believe this to be true thanks to the magic of the movie "Pretty Woman". So in an effort to keep up that Cinderella-esque ideal that if a girl is pretty and charming enough, it overshadows the fact that she blows many, many cocks for money and a rich guy will save her from the streets. Let's pretend that Kianna Dior is a hooker with a heart of gold who merits some rescuing. Kianna comes across a rich guy who has a limo that he is willing to let her rest her tired tootsies in. (It's rough pounding the pavement and getting your pussy pounded, too.) So, being the overly grateful streetwalker that she is, Kianna decides to show him her gratitude with the only thing she has to offer a rich guy...her hooker pussy. Does he decide to whisk her away from all things hooker-like because of her prime, horny, pink clam and righteous cock-sucking skills? Hell, no! This isn't the movies. What he does do is promise her that he will be back next week for another romp in the limo with her. Hey, he didn't take her off the streets, but at least he is giving her a steady income, or rather cumming in her a lot.
More Big Tits »
If you are a dude who has a best buddy, you are responsible for a few things. The first is lying for your buddy whenever he needs you to. If his ball and chain comes snoopin' around, you deny and lie until you die or at least get your friend on the phone to warn him. The second thing you are responsible for is breakin' your friends' balls at every opportunity. This is important as it builds character and is just plain funny. The last thing you are responsible for, and probably the most important thing of all, is getting your buddy some strippers for his bachelor party. And not just any run-of-the-mill-dancing-for-dollars stripper, either. Nope. You are responsible for getting him a hot slut who is going to drain his nuts of every last drop of his single-man baby batter. A slut like Holly Halston. This stripper takes it up her slutty snatch, in the mouth and most-importantly, up her tight ass. So remember, when the time comes to do right by your best bud, give him the gift that keeps on giving. Give him a big-tit hooker.
More Big Tits »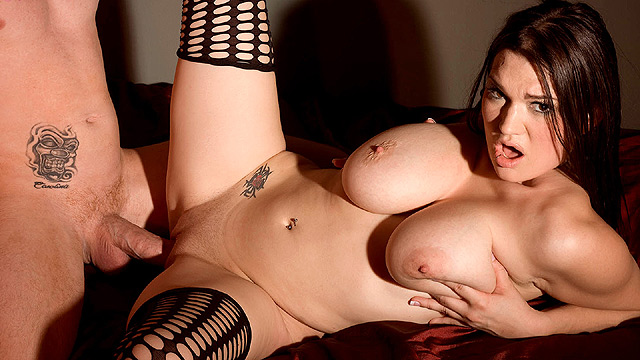 When you see Cassandra Calogera gyrating and grinding her hot body and mashing her big tits on the glass in the red light district of Pleasure Town, USA, you wonder why there aren't more of these districts around your neighborhood, right? Furthermore, you ask yourself, (or at least we did) why the fuck Sting & The Police sing and advise Roxanne to NOT "put on the red light"? We just don't get it. If she looked half as good as Cassandra does, we'd tell her to keep the red light on 24/7. This lucky dude actually gets past the glass and taps Cassandra's ass and ends up coating her chesticles in some man sauce. Obviously, he pays for her time, but who cares? It certainly seems like a wise purchase, and judging by the amount of nut cream this guy spills, he certainly seems to be a happy customer. We advise all busty bitches to put on the red light, take off their clothes and get on a cock, in that order.
More Big Tits »
Even though this tatted teen got into the hooker game early, she's already got the attitude, big tits and deep-throating skills to give more experienced prostitutes a run for their money. Lavish's pussy and sex skills are top-notch, and she charges accordingly. "I got into the game 'cause I love money and I love dick, in that order. My name is Lavish because I like the finer things in life. Pay me well and you'll get the best fuck money can buy," revealed Lavish.
More Big Tits »