Latest Hooker Videos (Page 2)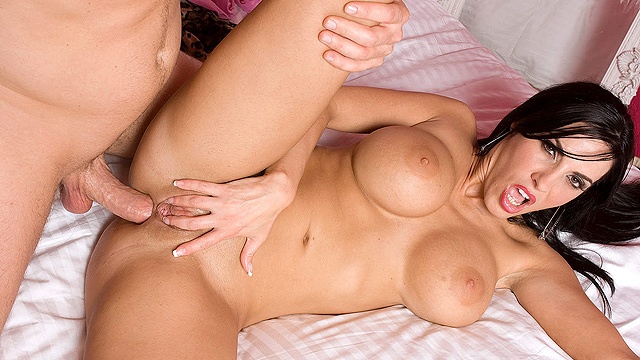 What is a street corner skank? Well, if you guessed that it's a woman of ill repute who barters her ass, tits and pussy for cold, hard cash, then you guessed right. And of all the skanks you will ever see on any street corner, Veronica Rayne is one of the classiest of them all. This chick really knows how much she is worth and really values herself. Yes, if you were to ask her how much it would cost for you to dick her down and have her suck your cock like her life depended on it, she would tell you it would cost a whopping $100. Yes, that's right, a whole sum of 100 smackers to smack your cock on her face. Yeah, we were blown away by that dollar amount, too. While her street competition is quoting amounts up to triple that, Veronica understands that we are in a recession and that the average consumer wants a fucking bargain...literally. So she is willing to give you the deal of a lifetime. For only five crisp twenties, you can get your knob slobbed on, grip and suck on those huge funbags, do whatever you want to her juicy, pink clam and then stuff your cock into her box. But wait, there's more! If you impress her with your ability to bang her like the hooker ho she is, then she will cut you a break. Yes, there are more deals in this girl than a 3 a.m. infomercial. For just $50 more, you get not one hole, but two! Veronica is wheelin' and dealin' her asshole out, too. So pull out $150 gentlemen and pork this piggie for all she's worth. And don't forget to tell your friends. Who knows, maybe she'll give you a group discount!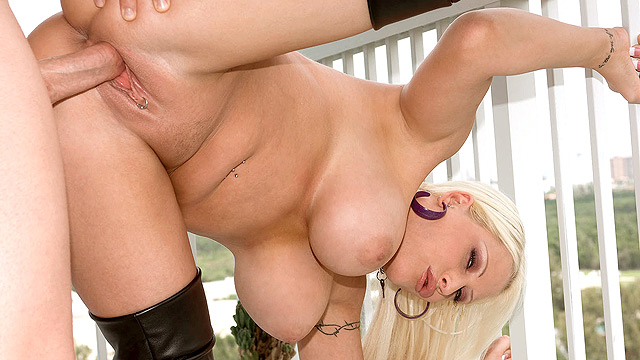 So you're an ordinary dude and your license has been suspended and now you are stuck riding public transportation. You're waiting for the bus to show up so you can go and visit your girlfriend who doesn't even have the courtesy to come and pick you up. Well, someone DOES want to pick you up...Candy Manson does. In fact, this busty bitch wants you to abandon your post at the bust stop and come back to her place for some afternoon delight. This chick is smokin' hot and her huge hooters are practically coming out of her dress...what does she want with an average Joe like you? What's the catch? The catch is that this bitch gets paid so you can get laid. That's right...she's a BIG TIT HOOKER and you can be her next trick for a low fee of $200. According to Candy, she is the, "best, little cocksucker in town," and she takes you home so she can prove it. Candy sucks cock for about 15 minutes, because when someone says they are the BEST cocksucker it takes some time to demonstrate. Then she bends herself in every position so she can get dicked down as hard as possible. Then she asks to be coated in nut juice because that's how dirty girls like to moisturize their knockers. Then, when all is said and done, Candy licks that man spray off her hooters, because that's how dirty girls get nourishment. What's the best part about getting fucked by this huge-mammed ho? The part where she drives you to an ATM to get her money. Yeah, this is one bitch who won't have you riding the bus...but sure will let you ride a train on her ass!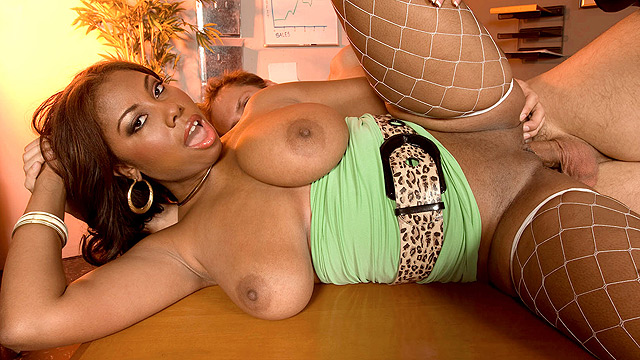 Mr. Swiss is a stressed out corporate type who loves to fuck busty hookers. When he calls his regular ho, Candace Von, for some nut-alleviation, she is already with a John...IN the john. When he insists that she bring her sweet tits over ASAP, Candace is faced with a tough decision: Does she finish sucking the cock she is with, or does she ditch that dude for the guy with the bucks? What does Ms. Von do? She makes her fucking money, that's what. After haggling with the office manager at the front desk, Candace struts her jiggly titties and plump, ghetto booty into this uptight yuppie's office and this guy does what we all would love to do to Candace...he fucks her for all she is worth. And boy is she worth a lot, because Ms. Von demands that he pay her for her goods. This guy obviously knows a good deal when he sees one because before you know it, he is whipping out the greenbacks and his cock and Ms. Von is taking everything he's got. First she tells him to play with her titties and then she gives him a premium cock sucking, deep-throating that dick all the way down to his nuts. After some serious doggie-style, Candace jumps on this John's Johnson and rides him like it's going out of style. Then, just because this bitch is the best hooker there is, she lets him bust all up in her mouth and she spits it out all over her tits so she can play with his nutsauce. When she's done, it's business time and she makes this motherfucker pay her for her services. If only chesty hookers wandered into all of our offices...it would make a HARD day at work take on a whole new meaning!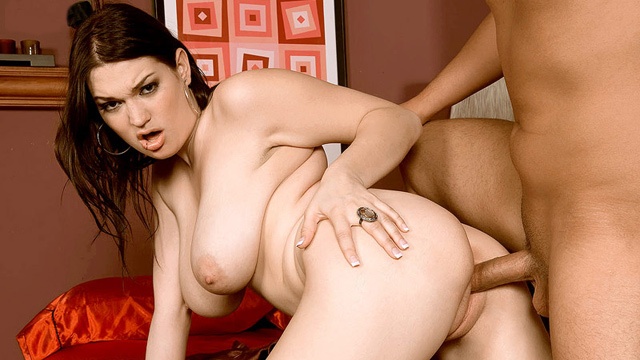 So you're driving along on a dusty gravel road, minding your own business and contemplating how great it would be to get your cock sucked when all of a sudden you spy a smokin' hot bitch up ahead. The closer you get, the bigger her tits get, and you start to realize that she is dressed up like a common hooker. Then you realize that she IS a common hooker. Is this a big-titted mirage? Is this busty ball-drainer a figment of your fucking perverted imagination? No, she is real. And her overactive sex drive is real, too. You pick her up and take her to your place for some R&R, which of course stands for rack and relaxation. She whips out her big tits and tells you to fuck her for all she is worth. And what is she worth? The couple of bills you are throwing her to get in her pussy, of course. You bought it; you break it in, buddy. Use that pussy like it's a lease, because technically, it is.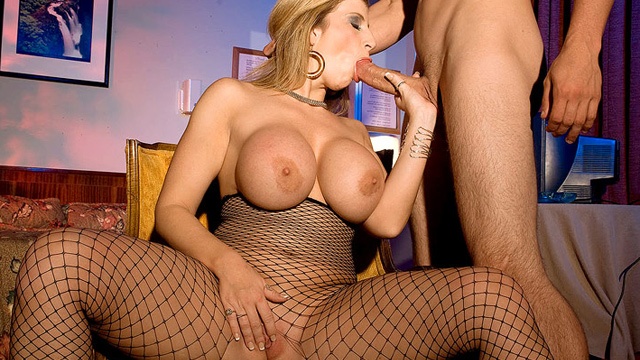 "How come everybody always wants to dress me up like a hooker?" Sara Jay said, giggling the last time she visited us. Because you look like a hooker, Sara, with your big tits, huge ass and slut face. Because you talk like a whore and suck dick like the street hooker of our dreams. And look at how great Sara looks in fishnets, the official uniform of streets sluts everywhere. "I love the idea of picking up strange men and sucking their cocks," Sara Jay said. "It's even better when you add the idea of them paying for it. It makes me feel like such a slut." Sara Jay, you feel like a slut because you are a slut. You do such a good job of playing the part of street hooker because the fantasy isn't very far from the truth. Sara, you were born for the role.