Popular Hooker Videos (Page 3)
Here is something almost unbelievable: Rich guys with millions of dollars need to hire hookers to get some action. (Yeah, cause the fact that they are rich just doesn't cut it with your average gold-digging slut. They have to pay for sex.) But, we are not going to argue with that since most chicks believe this to be true thanks to the magic of the movie "Pretty Woman". So in an effort to keep up that Cinderella-esque ideal that if a girl is pretty and charming enough, it overshadows the fact that she blows many, many cocks for money and a rich guy will save her from the streets. Let's pretend that Kianna Dior is a hooker with a heart of gold who merits some rescuing. Kianna comes across a rich guy who has a limo that he is willing to let her rest her tired tootsies in. (It's rough pounding the pavement and getting your pussy pounded, too.) So, being the overly grateful streetwalker that she is, Kianna decides to show him her gratitude with the only thing she has to offer a rich guy...her hooker pussy. Does he decide to whisk her away from all things hooker-like because of her prime, horny, pink clam and righteous cock-sucking skills? Hell, no! This isn't the movies. What he does do is promise her that he will be back next week for another romp in the limo with her. Hey, he didn't take her off the streets, but at least he is giving her a steady income, or rather cumming in her a lot.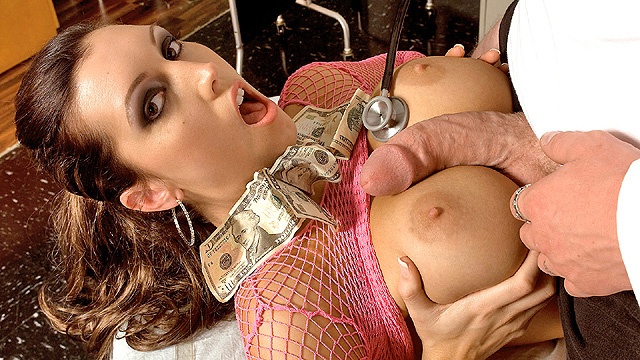 Medical care costs big bucks and sometimes, depending on your line of work, you might not get worker's compensation if you are injured on the job. This is especially true for some of the hardest workers, or rather, hard-on workers otherwise known as big-tit hookers. These gals pound the pavement and cocks with all they got and they need a little TLC from a doctor every now and then. But how to pay those high medical costs? The same way that these hookers pay for everything else...with their pussies. Watch as Dylan Ryder gets a check-up and a dick-down all in one appointment. Hooker pussy: Accepted everywhere.
Sara Jay is the hardest-working hooker in ho business. She pounds the pavement looking for a man with the bucks to pound her cunt. And lo and behold! She bumps into this perverted businessman who is looking for a little bit of busty business, man. She approaches him and he starts trying to strike a bargain with Sara right away. Sara lets him know that he can't nickel and dime good pussy and hops into his car for their rendezvous in an abandoned garage. Not only does she lay that pussy and those tits on him, but she also talks to him about add-ons that will cost him only a little bit more but are guaranteed to give him pleasure. That's right, Sara Jay is a hooker with upgrades. For just a little more dough she gives an extra blow. For just a little more cash you can work that ass. These are a pair of perkies that come with perks.
Ah, the strip club. Who doesn't love the strip club? Loud music, naked bitches, and good times abounding...it's like an adult amusement park. And this adult amusement park comes complete with adult beverages, food and all sorts of attractions. Apparently, there are also fun rides at this strip club, because for enough Benjamins, you can take a spin in Carmen Hayes' pussy. Yeah, those lying bastards who told you there was no sex in the champagne room apparently never rolled with enough cash to purchase prime ass like this. When you go to the club Carmen dances at, she gives you a great stage show and then she takes you back to the VIP room and gives you a great ho-blow. Carmen, in all her flexible glory, takes down cock like a champion. You know how they say that people who really love their jobs always do a great job? Well, we think Carmen found her true calling because not a lot of chicks look this happy shaking their asses for bucks and getting fucked, too. Carmen is all about two things: Greenbacks and lying on her back. Hey, we're not hating on her. Make that money, baby!
Commuting to and fro on public transportation sucks. Let's face it, you are cramped into small spaces with less-than-pleasant smelling folks and you are forced to listen to their babble and their complaints while you pray that the next stop is yours so you can get off and be freed from your transport prison. And no matter what you do, the total suck-factor of commuting this way will not improve. While we cannot make your transit experience better, what if we suggested that you get to bone a busty, anal-loving whore the minute you got off the subway? What if you could get off, and then, get off in a tight asshole right after? Sounds plenty good, huh? Well, while we can't promise that this will become implemented in subways all over the USA, what we can say is that it happens, so have faith. You check out this hooker getting porked in an empty subway terminal and we will start working on recruiting more working girls to give up their ass tunnels in the subway tunnels. Enjoy!