Popular Hooker Videos (Page 3)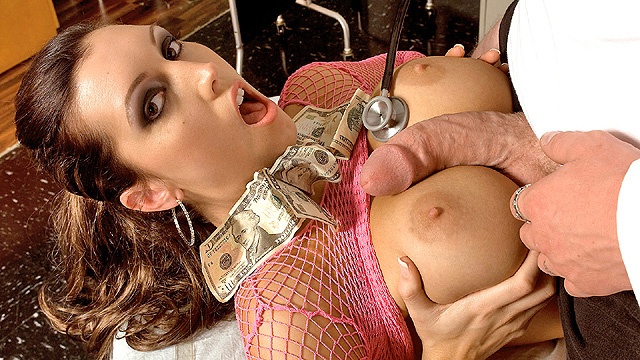 Medical care costs big bucks and sometimes, depending on your line of work, you might not get worker's compensation if you are injured on the job. This is especially true for some of the hardest workers, or rather, hard-on workers otherwise known as big-tit hookers. These gals pound the pavement and cocks with all they got and they need a little TLC from a doctor every now and then. But how to pay those high medical costs? The same way that these hookers pay for everything else...with their pussies. Watch as Dylan Ryder gets a check-up and a dick-down all in one appointment. Hooker pussy: Accepted everywhere.
More Big Tits »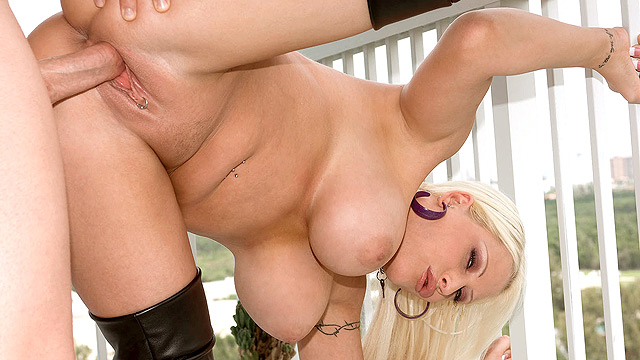 So you're an ordinary dude and your license has been suspended and now you are stuck riding public transportation. You're waiting for the bus to show up so you can go and visit your girlfriend who doesn't even have the courtesy to come and pick you up. Well, someone DOES want to pick you up...Candy Manson does. In fact, this busty bitch wants you to abandon your post at the bust stop and come back to her place for some afternoon delight. This chick is smokin' hot and her huge hooters are practically coming out of her dress...what does she want with an average Joe like you? What's the catch? The catch is that this bitch gets paid so you can get laid. That's right...she's a BIG TIT HOOKER and you can be her next trick for a low fee of $200. According to Candy, she is the, "best, little cocksucker in town," and she takes you home so she can prove it. Candy sucks cock for about 15 minutes, because when someone says they are the BEST cocksucker it takes some time to demonstrate. Then she bends herself in every position so she can get dicked down as hard as possible. Then she asks to be coated in nut juice because that's how dirty girls like to moisturize their knockers. Then, when all is said and done, Candy licks that man spray off her hooters, because that's how dirty girls get nourishment. What's the best part about getting fucked by this huge-mammed ho? The part where she drives you to an ATM to get her money. Yeah, this is one bitch who won't have you riding the bus...but sure will let you ride a train on her ass!
More Big Tits »
Sara Jay is the hardest-working hooker in ho business. She pounds the pavement looking for a man with the bucks to pound her cunt. And lo and behold! She bumps into this perverted businessman who is looking for a little bit of busty business, man. She approaches him and he starts trying to strike a bargain with Sara right away. Sara lets him know that he can't nickel and dime good pussy and hops into his car for their rendezvous in an abandoned garage. Not only does she lay that pussy and those tits on him, but she also talks to him about add-ons that will cost him only a little bit more but are guaranteed to give him pleasure. That's right, Sara Jay is a hooker with upgrades. For just a little more dough she gives an extra blow. For just a little more cash you can work that ass. These are a pair of perkies that come with perks.
More Big Tits »
Commuting to and fro on public transportation sucks. Let's face it, you are cramped into small spaces with less-than-pleasant smelling folks and you are forced to listen to their babble and their complaints while you pray that the next stop is yours so you can get off and be freed from your transport prison. And no matter what you do, the total suck-factor of commuting this way will not improve. While we cannot make your transit experience better, what if we suggested that you get to bone a busty, anal-loving whore the minute you got off the subway? What if you could get off, and then, get off in a tight asshole right after? Sounds plenty good, huh? Well, while we can't promise that this will become implemented in subways all over the USA, what we can say is that it happens, so have faith. You check out this hooker getting porked in an empty subway terminal and we will start working on recruiting more working girls to give up their ass tunnels in the subway tunnels. Enjoy!
More Big Tits »
When you gotta make money, you gotta make money. That means you gotta employ all the skills that you can to make sure that you can get some bread and earn some sort of paycheck. Poor Jana can't type, so an office job is out of the question for her. She can't serve, so working as a waitress is not gonna happen. But surely there must be something that a woman with these two large assets on her chest can do, right? And that's when Jana has a Eureka! moment. She can use her pussy and tits to plow cock throughout the countryside. But wait...she doesn't have an apartment or enough money to rent a hotel room. No worries, as she is resourceful. If she is going to strip down to her natural state and fuck, she might as well do it outside in nature, right? Besides, her Johns are so excited over the sight of her huge tits that they don't mind getting a little ass in the grass.
More Big Tits »