Popular Hooker Videos (Page 3)
Sara Jay is the hardest-working hooker in ho business. She pounds the pavement looking for a man with the bucks to pound her cunt. And lo and behold! She bumps into this perverted businessman who is looking for a little bit of busty business, man. She approaches him and he starts trying to strike a bargain with Sara right away. Sara lets him know that he can't nickel and dime good pussy and hops into his car for their rendezvous in an abandoned garage. Not only does she lay that pussy and those tits on him, but she also talks to him about add-ons that will cost him only a little bit more but are guaranteed to give him pleasure. That's right, Sara Jay is a hooker with upgrades. For just a little more dough she gives an extra blow. For just a little more cash you can work that ass. These are a pair of perkies that come with perks.
More Big Tits »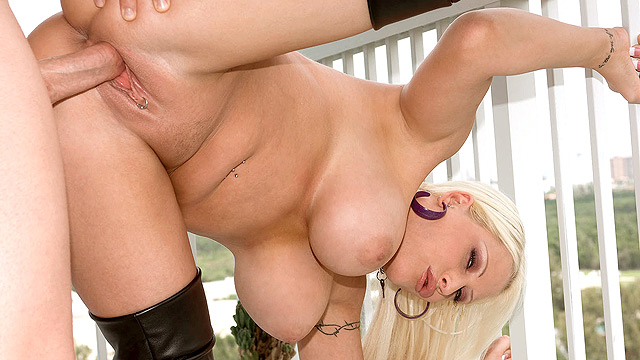 So you're an ordinary dude and your license has been suspended and now you are stuck riding public transportation. You're waiting for the bus to show up so you can go and visit your girlfriend who doesn't even have the courtesy to come and pick you up. Well, someone DOES want to pick you up...Candy Manson does. In fact, this busty bitch wants you to abandon your post at the bust stop and come back to her place for some afternoon delight. This chick is smokin' hot and her huge hooters are practically coming out of her dress...what does she want with an average Joe like you? What's the catch? The catch is that this bitch gets paid so you can get laid. That's right...she's a BIG TIT HOOKER and you can be her next trick for a low fee of $200. According to Candy, she is the, "best, little cocksucker in town," and she takes you home so she can prove it. Candy sucks cock for about 15 minutes, because when someone says they are the BEST cocksucker it takes some time to demonstrate. Then she bends herself in every position so she can get dicked down as hard as possible. Then she asks to be coated in nut juice because that's how dirty girls like to moisturize their knockers. Then, when all is said and done, Candy licks that man spray off her hooters, because that's how dirty girls get nourishment. What's the best part about getting fucked by this huge-mammed ho? The part where she drives you to an ATM to get her money. Yeah, this is one bitch who won't have you riding the bus...but sure will let you ride a train on her ass!
More Big Tits »
Busty Holly Halston works the local hooker circuit in these hard economic times, and lately, Johns are not spending the dough that they used to on hos. Sometimes, with all these competitive hos around, in order to make enough money, girls like Holly have to fight bitches off! That's what Holly does when some hooker skank tries to cut in and take her John. This busty bitch needs the money and she knows that she with the biggest tits always gets the trick, so she puts her tits to the test, letting this customer feel her goods. When she wins the titty challenge she goes back to this guy's pad and gets her pussy and her ass fucked so hard, you might almost wince while you are watching it. (We said ALMOST.) And just a quick FYI...Holly's dirty-talk is almost as spectacular as her cock-milking skills. This hooker could talk the milk out of a cow, so she has no problem talking the cream out of your cock. When she cries out, "Fuck that little whore cunt hole!" you will thank us.
More Big Tits »
Commuting to and fro on public transportation sucks. Let's face it, you are cramped into small spaces with less-than-pleasant smelling folks and you are forced to listen to their babble and their complaints while you pray that the next stop is yours so you can get off and be freed from your transport prison. And no matter what you do, the total suck-factor of commuting this way will not improve. While we cannot make your transit experience better, what if we suggested that you get to bone a busty, anal-loving whore the minute you got off the subway? What if you could get off, and then, get off in a tight asshole right after? Sounds plenty good, huh? Well, while we can't promise that this will become implemented in subways all over the USA, what we can say is that it happens, so have faith. You check out this hooker getting porked in an empty subway terminal and we will start working on recruiting more working girls to give up their ass tunnels in the subway tunnels. Enjoy!
More Big Tits »
Welcome to Madame G's House of Boobs, a happy, little brothel where the chicks are busty and fuck heartily. When you come to the House of Boobs, you get the best boobs in the land, man. Madame G's a pimp with an eye for tit talent and she runs a tight ship. When one of her girls tries to get into the boob lineup by stuffing her bra, Madame G shuts her down by ripping her falsies out and sends her packing. So, when our John (who is apparently a baller of epic proportions and can spend lots o' bucks on busty fucks) comes to the House of Boobs with five grand to blow on a good roll in the hay, the only girl who will suffice is the cream of the crop, Alexis Silver. Alexis does her thing, giving him quite the masturbation show, giving him a glimpse at the goods he has just leased. Then she gives him a good blowing and tit-fucking right before she mounts him for the ride of his life. In the end, it's a great moment in purchasing history. Cab ride to Madame G's: $18 Purchasing of a busty hooker: $5000 Blowing your load all over a pair of perfect, huge tits: Priceless.
More Big Tits »