Popular Hooker Videos (Page 3)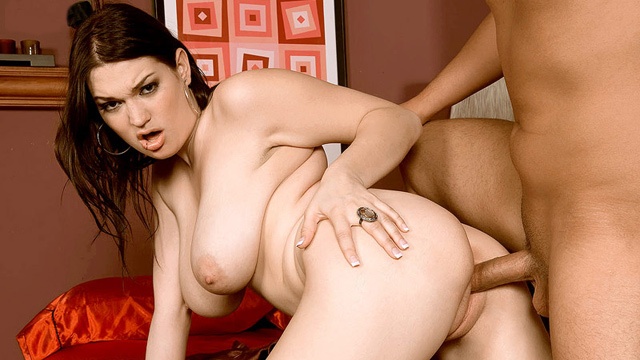 So you're driving along on a dusty gravel road, minding your own business and contemplating how great it would be to get your cock sucked when all of a sudden you spy a smokin' hot bitch up ahead. The closer you get, the bigger her tits get, and you start to realize that she is dressed up like a common hooker. Then you realize that she IS a common hooker. Is this a big-titted mirage? Is this busty ball-drainer a figment of your fucking perverted imagination? No, she is real. And her overactive sex drive is real, too. You pick her up and take her to your place for some R&R, which of course stands for rack and relaxation. She whips out her big tits and tells you to fuck her for all she is worth. And what is she worth? The couple of bills you are throwing her to get in her pussy, of course. You bought it; you break it in, buddy. Use that pussy like it's a lease, because technically, it is.
Commuting to and fro on public transportation sucks. Let's face it, you are cramped into small spaces with less-than-pleasant smelling folks and you are forced to listen to their babble and their complaints while you pray that the next stop is yours so you can get off and be freed from your transport prison. And no matter what you do, the total suck-factor of commuting this way will not improve. While we cannot make your transit experience better, what if we suggested that you get to bone a busty, anal-loving whore the minute you got off the subway? What if you could get off, and then, get off in a tight asshole right after? Sounds plenty good, huh? Well, while we can't promise that this will become implemented in subways all over the USA, what we can say is that it happens, so have faith. You check out this hooker getting porked in an empty subway terminal and we will start working on recruiting more working girls to give up their ass tunnels in the subway tunnels. Enjoy!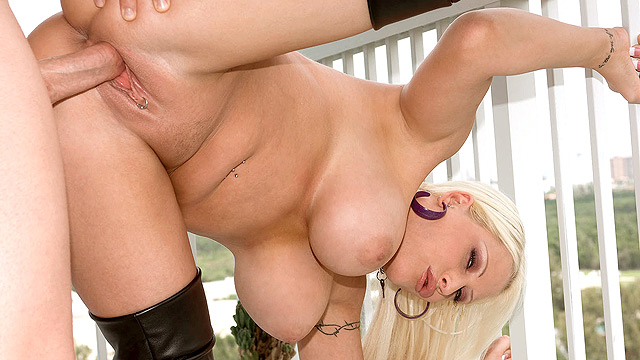 So you're an ordinary dude and your license has been suspended and now you are stuck riding public transportation. You're waiting for the bus to show up so you can go and visit your girlfriend who doesn't even have the courtesy to come and pick you up. Well, someone DOES want to pick you up...Candy Manson does. In fact, this busty bitch wants you to abandon your post at the bust stop and come back to her place for some afternoon delight. This chick is smokin' hot and her huge hooters are practically coming out of her dress...what does she want with an average Joe like you? What's the catch? The catch is that this bitch gets paid so you can get laid. That's right...she's a BIG TIT HOOKER and you can be her next trick for a low fee of $200. According to Candy, she is the, "best, little cocksucker in town," and she takes you home so she can prove it. Candy sucks cock for about 15 minutes, because when someone says they are the BEST cocksucker it takes some time to demonstrate. Then she bends herself in every position so she can get dicked down as hard as possible. Then she asks to be coated in nut juice because that's how dirty girls like to moisturize their knockers. Then, when all is said and done, Candy licks that man spray off her hooters, because that's how dirty girls get nourishment. What's the best part about getting fucked by this huge-mammed ho? The part where she drives you to an ATM to get her money. Yeah, this is one bitch who won't have you riding the bus...but sure will let you ride a train on her ass!
Busty Holly Halston works the local hooker circuit in these hard economic times, and lately, Johns are not spending the dough that they used to on hos. Sometimes, with all these competitive hos around, in order to make enough money, girls like Holly have to fight bitches off! That's what Holly does when some hooker skank tries to cut in and take her John. This busty bitch needs the money and she knows that she with the biggest tits always gets the trick, so she puts her tits to the test, letting this customer feel her goods. When she wins the titty challenge she goes back to this guy's pad and gets her pussy and her ass fucked so hard, you might almost wince while you are watching it. (We said ALMOST.) And just a quick FYI...Holly's dirty-talk is almost as spectacular as her cock-milking skills. This hooker could talk the milk out of a cow, so she has no problem talking the cream out of your cock. When she cries out, "Fuck that little whore cunt hole!" you will thank us.
Ah, the strip club. Who doesn't love the strip club? Loud music, naked bitches, and good times abounding...it's like an adult amusement park. And this adult amusement park comes complete with adult beverages, food and all sorts of attractions. Apparently, there are also fun rides at this strip club, because for enough Benjamins, you can take a spin in Carmen Hayes' pussy. Yeah, those lying bastards who told you there was no sex in the champagne room apparently never rolled with enough cash to purchase prime ass like this. When you go to the club Carmen dances at, she gives you a great stage show and then she takes you back to the VIP room and gives you a great ho-blow. Carmen, in all her flexible glory, takes down cock like a champion. You know how they say that people who really love their jobs always do a great job? Well, we think Carmen found her true calling because not a lot of chicks look this happy shaking their asses for bucks and getting fucked, too. Carmen is all about two things: Greenbacks and lying on her back. Hey, we're not hating on her. Make that money, baby!