Latest Hooker Videos (Page 4)
If you are a dude who has a best buddy, you are responsible for a few things. The first is lying for your buddy whenever he needs you to. If his ball and chain comes snoopin' around, you deny and lie until you die or at least get your friend on the phone to warn him. The second thing you are responsible for is breakin' your friends' balls at every opportunity. This is important as it builds character and is just plain funny. The last thing you are responsible for, and probably the most important thing of all, is getting your buddy some strippers for his bachelor party. And not just any run-of-the-mill-dancing-for-dollars stripper, either. Nope. You are responsible for getting him a hot slut who is going to drain his nuts of every last drop of his single-man baby batter. A slut like Holly Halston. This stripper takes it up her slutty snatch, in the mouth and most-importantly, up her tight ass. So remember, when the time comes to do right by your best bud, give him the gift that keeps on giving. Give him a big-tit hooker.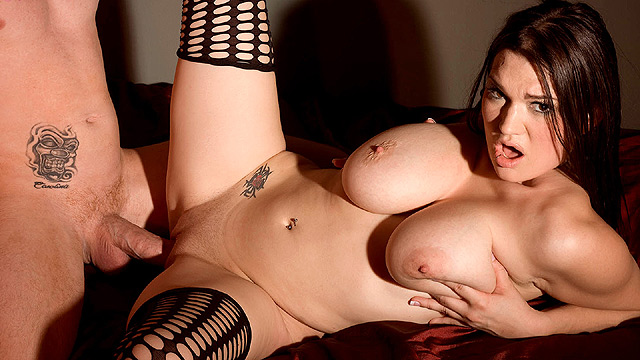 When you see Cassandra Calogera gyrating and grinding her hot body and mashing her big tits on the glass in the red light district of Pleasure Town, USA, you wonder why there aren't more of these districts around your neighborhood, right? Furthermore, you ask yourself, (or at least we did) why the fuck Sting & The Police sing and advise Roxanne to NOT "put on the red light"? We just don't get it. If she looked half as good as Cassandra does, we'd tell her to keep the red light on 24/7. This lucky dude actually gets past the glass and taps Cassandra's ass and ends up coating her chesticles in some man sauce. Obviously, he pays for her time, but who cares? It certainly seems like a wise purchase, and judging by the amount of nut cream this guy spills, he certainly seems to be a happy customer. We advise all busty bitches to put on the red light, take off their clothes and get on a cock, in that order.
Even though this tatted teen got into the hooker game early, she's already got the attitude, big tits and deep-throating skills to give more experienced prostitutes a run for their money. Lavish's pussy and sex skills are top-notch, and she charges accordingly. "I got into the game 'cause I love money and I love dick, in that order. My name is Lavish because I like the finer things in life. Pay me well and you'll get the best fuck money can buy," revealed Lavish.
Sara Jay is the hardest-working hooker in ho business. She pounds the pavement looking for a man with the bucks to pound her cunt. And lo and behold! She bumps into this perverted businessman who is looking for a little bit of busty business, man. She approaches him and he starts trying to strike a bargain with Sara right away. Sara lets him know that he can't nickel and dime good pussy and hops into his car for their rendezvous in an abandoned garage. Not only does she lay that pussy and those tits on him, but she also talks to him about add-ons that will cost him only a little bit more but are guaranteed to give him pleasure. That's right, Sara Jay is a hooker with upgrades. For just a little more dough she gives an extra blow. For just a little more cash you can work that ass. These are a pair of perkies that come with perks.
Welcome to Madame G's House of Boobs, a happy, little brothel where the chicks are busty and fuck heartily. When you come to the House of Boobs, you get the best boobs in the land, man. Madame G's a pimp with an eye for tit talent and she runs a tight ship. When one of her girls tries to get into the boob lineup by stuffing her bra, Madame G shuts her down by ripping her falsies out and sends her packing. So, when our John (who is apparently a baller of epic proportions and can spend lots o' bucks on busty fucks) comes to the House of Boobs with five grand to blow on a good roll in the hay, the only girl who will suffice is the cream of the crop, Alexis Silver. Alexis does her thing, giving him quite the masturbation show, giving him a glimpse at the goods he has just leased. Then she gives him a good blowing and tit-fucking right before she mounts him for the ride of his life. In the end, it's a great moment in purchasing history. Cab ride to Madame G's: $18 Purchasing of a busty hooker: $5000 Blowing your load all over a pair of perfect, huge tits: Priceless.