Popular Hooker Videos (Page 4)
Busty Holly Halston works the local hooker circuit in these hard economic times, and lately, Johns are not spending the dough that they used to on hos. Sometimes, with all these competitive hos around, in order to make enough money, girls like Holly have to fight bitches off! That's what Holly does when some hooker skank tries to cut in and take her John. This busty bitch needs the money and she knows that she with the biggest tits always gets the trick, so she puts her tits to the test, letting this customer feel her goods. When she wins the titty challenge she goes back to this guy's pad and gets her pussy and her ass fucked so hard, you might almost wince while you are watching it. (We said ALMOST.) And just a quick FYI...Holly's dirty-talk is almost as spectacular as her cock-milking skills. This hooker could talk the milk out of a cow, so she has no problem talking the cream out of your cock. When she cries out, "Fuck that little whore cunt hole!" you will thank us.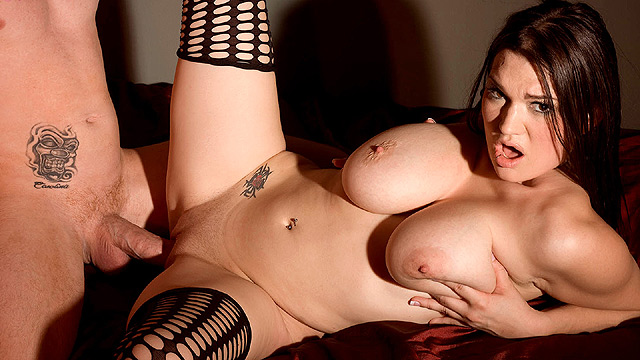 When you see Cassandra Calogera gyrating and grinding her hot body and mashing her big tits on the glass in the red light district of Pleasure Town, USA, you wonder why there aren't more of these districts around your neighborhood, right? Furthermore, you ask yourself, (or at least we did) why the fuck Sting & The Police sing and advise Roxanne to NOT "put on the red light"? We just don't get it. If she looked half as good as Cassandra does, we'd tell her to keep the red light on 24/7. This lucky dude actually gets past the glass and taps Cassandra's ass and ends up coating her chesticles in some man sauce. Obviously, he pays for her time, but who cares? It certainly seems like a wise purchase, and judging by the amount of nut cream this guy spills, he certainly seems to be a happy customer. We advise all busty bitches to put on the red light, take off their clothes and get on a cock, in that order.
Welcome to Madame G's House of Boobs, a happy, little brothel where the chicks are busty and fuck heartily. When you come to the House of Boobs, you get the best boobs in the land, man. Madame G's a pimp with an eye for tit talent and she runs a tight ship. When one of her girls tries to get into the boob lineup by stuffing her bra, Madame G shuts her down by ripping her falsies out and sends her packing. So, when our John (who is apparently a baller of epic proportions and can spend lots o' bucks on busty fucks) comes to the House of Boobs with five grand to blow on a good roll in the hay, the only girl who will suffice is the cream of the crop, Alexis Silver. Alexis does her thing, giving him quite the masturbation show, giving him a glimpse at the goods he has just leased. Then she gives him a good blowing and tit-fucking right before she mounts him for the ride of his life. In the end, it's a great moment in purchasing history. Cab ride to Madame G's: $18 Purchasing of a busty hooker: $5000 Blowing your load all over a pair of perfect, huge tits: Priceless.
When we first saw Lavish we thought she looked like pop chanteuse, Rihanna. You know, the chick that sings that Umbrella song. Well, we imagine that the conversation between her and this John went something like this: "You look like Rihanna," "Yeah, people tell me that. Want me to suck your dick?" You'd have to be nuts to refuse that offer. Lavish may not have the biggest tits out there, but she makes up for her quantity with the quality of her cock-sucking and pussy popping. You see, she says she likes to fuck the dick and when she does, she likes to imagine herself on the dance floor, throwing her coochie and her ass around. She says the reason she makes so much dough as a hooker is because most guys want to fuck a black chick that looks like one of those video hos. "I just pop my ass around and drop it down and grind it on their dicks and them boys go crazy and give me all that money, baby!" Well-said, Lavish. You keep on dirty dancin' your way to the bank!
Do you like your job all the time? Think about the question and then answer honestly. Chances are, you like your job but doing the same thing over and over, day in and day out can get a little boring, right? Hey man, it's the same way for the ladies who pound the pavement and cocks all day, too. Sometimes they get a little bored just fucking and sucking and sucking and fucking all day long. Like Kali here. Don't get us wrong...she sucks a mean cock and she can fuck and drain a dick with her tight pussy like no one's business, but she has seen it all so it's no surprise that she tells this John that she tends to get bored on the clock. Being the hero that this dude is, he decides to give Kali an extra-hard pounding and reminds her that she is not on the clock, but on his cock, and she loves every minute of it. We imagine that, for Kali, this was a good day at the office.