Popular Hooker Videos (Page 4)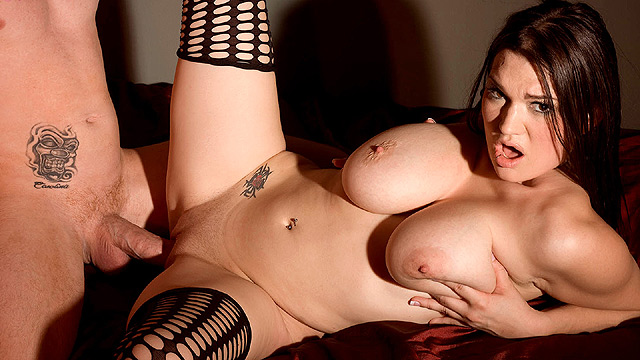 When you see Cassandra Calogera gyrating and grinding her hot body and mashing her big tits on the glass in the red light district of Pleasure Town, USA, you wonder why there aren't more of these districts around your neighborhood, right? Furthermore, you ask yourself, (or at least we did) why the fuck Sting & The Police sing and advise Roxanne to NOT "put on the red light"? We just don't get it. If she looked half as good as Cassandra does, we'd tell her to keep the red light on 24/7. This lucky dude actually gets past the glass and taps Cassandra's ass and ends up coating her chesticles in some man sauce. Obviously, he pays for her time, but who cares? It certainly seems like a wise purchase, and judging by the amount of nut cream this guy spills, he certainly seems to be a happy customer. We advise all busty bitches to put on the red light, take off their clothes and get on a cock, in that order.
More Big Tits »
When we first saw Lavish we thought she looked like pop chanteuse, Rihanna. You know, the chick that sings that Umbrella song. Well, we imagine that the conversation between her and this John went something like this: "You look like Rihanna," "Yeah, people tell me that. Want me to suck your dick?" You'd have to be nuts to refuse that offer. Lavish may not have the biggest tits out there, but she makes up for her quantity with the quality of her cock-sucking and pussy popping. You see, she says she likes to fuck the dick and when she does, she likes to imagine herself on the dance floor, throwing her coochie and her ass around. She says the reason she makes so much dough as a hooker is because most guys want to fuck a black chick that looks like one of those video hos. "I just pop my ass around and drop it down and grind it on their dicks and them boys go crazy and give me all that money, baby!" Well-said, Lavish. You keep on dirty dancin' your way to the bank!
More Big Tits »
We live in a world of convenience and we like what we want, when we want it. For example, when you want a nice, juicy burger, you can just pull in to your local drive-thru and order it. If you want to pick up some prescriptions, you can just mosey on over to your local pharmacy's drive-thru and get your meds. So why not incorporate that into how we get ass? How convenient would it be to just pull up to a corner nearby and order up some juicy cooze to go? That's exactly what this guy does. He pulls up to choco-licious Stacy Adams, working her wares on the ave, and he says, "I'd like some mocha poon to go, please. And a side of titties, too, super-sized. Thanks." And she jumps into his car and then on his cock in the motel a few minutes later. And when he is done with his quickie, he tells her to book and that's because just like fast-food containers, hookers like Stacy are disposable. Doesn't that sound quick and easy? You betcha. All hookers should be quick and easy.
More Big Tits »
When it comes to your friends, there is one rule that most men follow almost religiously and that rule is, "Bros before hos." That's right. You honor your pack of buddies and you never, ever put any chick before your time with the guys. To do so would be to admit that you have been clamped down by the pussy, and are now officially pussy-whipped. What guy wants that? But what if you have this buddy, and he has trouble with the ladies. In fact, he has trouble getting any 'tang at all. Well then, that rule changes to, "Bros get Bros hos." And that's exactly what this stand-up guy does for his homey. He takes him to the side of town where all the hookers are and helps him finalize his ass purchase with Stacy. And then he roots him on while he gets his cock sucked. And because sharing is caring, both guys decide that there is enough tits, ass and pussy to go around and they run a train on slutty Stacy. And that's fine with her because she is getting paid by the hour no matter how many cocks cum to the party.
More Big Tits »
The hottest fucking street whore you¹ve ever seen is standing by a dumpster, of all places, dressed like the hottest fucking street whore you've ever seen. Tiny skirt. Tits pouring out of her top. Smoking a cigarette like the sexy fucking slut that she is. She waves you down, but she's already got your attention. You know what you want. She knows what you want. Now it's all about the negotiation, and she's holding all the cards. "My name is Puma," she says, like you give a shit. All you care about is her tits and pussy. You make up a name for yourself, erase any suspicion that she's a cop (she already grabbed your cock to make sure) and go back to your room. Can she possibly be as good as she looks? Sure she can.
More Big Tits »