Latest Hooker Videos (Page 5)
Some things have changed since the 70s, and some haven't. You'd be hard pressed to find anyone sporting polyester or full-grown pubic hair these days. But big tits and cock-sucking whores are two things that will never go out of style. In this 70s funbag flashback, Sarah Sunshine works overtime to make her money, taking on double the dick and double the dollars. She's a girl from the wrong side of the tracks and she gets fucked like the cock-hungry whore she is-with one prick in her pussy and the other in her mouth.
Ah, the strip club. Who doesn't love the strip club? Loud music, naked bitches, and good times abounding...it's like an adult amusement park. And this adult amusement park comes complete with adult beverages, food and all sorts of attractions. Apparently, there are also fun rides at this strip club, because for enough Benjamins, you can take a spin in Carmen Hayes' pussy. Yeah, those lying bastards who told you there was no sex in the champagne room apparently never rolled with enough cash to purchase prime ass like this. When you go to the club Carmen dances at, she gives you a great stage show and then she takes you back to the VIP room and gives you a great ho-blow. Carmen, in all her flexible glory, takes down cock like a champion. You know how they say that people who really love their jobs always do a great job? Well, we think Carmen found her true calling because not a lot of chicks look this happy shaking their asses for bucks and getting fucked, too. Carmen is all about two things: Greenbacks and lying on her back. Hey, we're not hating on her. Make that money, baby!
Busty Holly Halston works the local hooker circuit in these hard economic times, and lately, Johns are not spending the dough that they used to on hos. Sometimes, with all these competitive hos around, in order to make enough money, girls like Holly have to fight bitches off! That's what Holly does when some hooker skank tries to cut in and take her John. This busty bitch needs the money and she knows that she with the biggest tits always gets the trick, so she puts her tits to the test, letting this customer feel her goods. When she wins the titty challenge she goes back to this guy's pad and gets her pussy and her ass fucked so hard, you might almost wince while you are watching it. (We said ALMOST.) And just a quick FYI...Holly's dirty-talk is almost as spectacular as her cock-milking skills. This hooker could talk the milk out of a cow, so she has no problem talking the cream out of your cock. When she cries out, "Fuck that little whore cunt hole!" you will thank us.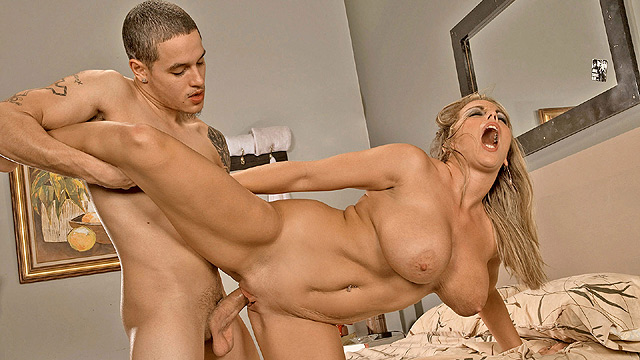 Ever get that feeling, like you're never going to find Ms. Right? Like, that wonderful lady you are supposed to ride off into the sunset with is never going to show up? Like you are never going to be able to say, "You complete me," to some amazing woman, and mean it? Well, hate to bust your bubble, friend, but chances are, you are right. Ms. Right is probably not coming your way. But here is a consolation prize...Ms. Right Now. You see, Ms. Right Now is just around the corner. Actually, she is ON the corner. Ms. Right Now is a modified version of Ms. Right and she comes with lots of perks, and that includes HUGE perky titties, too. You can tell Ms. Right Now to suck your dick, to lick your sack and to gobble up your nutritious load, and you know what? She will. And you don't have to spend a whole paycheck on a ring, either. Because Ms. Right Now is yours with only a small, one-time payment. So why waste your time on daydreams? Stop thinking about the what if's and start thinking about huge tits. Go out and find your Ms. Right Now...she is on a corner near you.
Soleil is not what you would call a businesswoman. Nope, she is not as savvy as all that. She is what you would call a hustler. She understands how to make money using what she's got. And what she's got is big ole' titties and a pussy that's hot and wet for plowing. So she hits the street, slanting her tits and her coochie for cold hard bucks. When she comes across this John's big dick, she is happy because it's a win-win. She is going to get slammed by a huge dong and make her dough, and he is going to get the finest coochie you can buy on the streets. But it is a business deal, after all, and Soleil is about the hustle, so she tells this guy to drop 'em and get it on with her because her time is money. She is so ready to get the job done that she doesn't even take her shoes off. That's right! This hooker is ready for anything, even if it means springing off the cock and right out the door, to find another dude with cash. Hey, everyone is going through hard economic times right now, so if this hootered ho has to pound cock and then pound the pavement looking for more cock after that, then hey, we are not mad at her.