Popular Hooker Videos (Page 5)
The hottest fucking street whore you¹ve ever seen is standing by a dumpster, of all places, dressed like the hottest fucking street whore you've ever seen. Tiny skirt. Tits pouring out of her top. Smoking a cigarette like the sexy fucking slut that she is. She waves you down, but she's already got your attention. You know what you want. She knows what you want. Now it's all about the negotiation, and she's holding all the cards. "My name is Puma," she says, like you give a shit. All you care about is her tits and pussy. You make up a name for yourself, erase any suspicion that she's a cop (she already grabbed your cock to make sure) and go back to your room. Can she possibly be as good as she looks? Sure she can.
When it comes to your friends, there is one rule that most men follow almost religiously and that rule is, "Bros before hos." That's right. You honor your pack of buddies and you never, ever put any chick before your time with the guys. To do so would be to admit that you have been clamped down by the pussy, and are now officially pussy-whipped. What guy wants that? But what if you have this buddy, and he has trouble with the ladies. In fact, he has trouble getting any 'tang at all. Well then, that rule changes to, "Bros get Bros hos." And that's exactly what this stand-up guy does for his homey. He takes him to the side of town where all the hookers are and helps him finalize his ass purchase with Stacy. And then he roots him on while he gets his cock sucked. And because sharing is caring, both guys decide that there is enough tits, ass and pussy to go around and they run a train on slutty Stacy. And that's fine with her because she is getting paid by the hour no matter how many cocks cum to the party.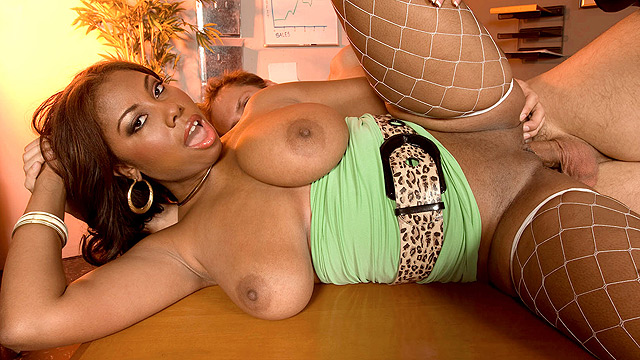 Mr. Swiss is a stressed out corporate type who loves to fuck busty hookers. When he calls his regular ho, Candace Von, for some nut-alleviation, she is already with a John...IN the john. When he insists that she bring her sweet tits over ASAP, Candace is faced with a tough decision: Does she finish sucking the cock she is with, or does she ditch that dude for the guy with the bucks? What does Ms. Von do? She makes her fucking money, that's what. After haggling with the office manager at the front desk, Candace struts her jiggly titties and plump, ghetto booty into this uptight yuppie's office and this guy does what we all would love to do to Candace...he fucks her for all she is worth. And boy is she worth a lot, because Ms. Von demands that he pay her for her goods. This guy obviously knows a good deal when he sees one because before you know it, he is whipping out the greenbacks and his cock and Ms. Von is taking everything he's got. First she tells him to play with her titties and then she gives him a premium cock sucking, deep-throating that dick all the way down to his nuts. After some serious doggie-style, Candace jumps on this John's Johnson and rides him like it's going out of style. Then, just because this bitch is the best hooker there is, she lets him bust all up in her mouth and she spits it out all over her tits so she can play with his nutsauce. When she's done, it's business time and she makes this motherfucker pay her for her services. If only chesty hookers wandered into all of our offices...it would make a HARD day at work take on a whole new meaning!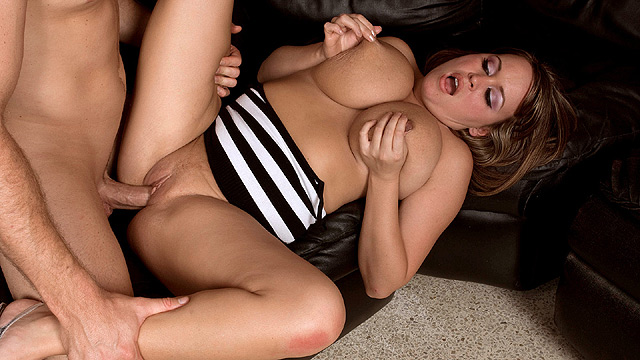 Why do we like hookers? Because hookers are good for the world. That's right. We are here to tell you that by hiring a hooker you are actually doing your country and your cock a service. How? We will explain. Check out hooker Brandy Talore. She is so convenient that she comes right to your house to service you in the comfort of your own home. (She is like a small-business owner and you are supporting that.) The only thing you have to do is find your favorite spot and fuck her right then and there.(And you are technically taking her off the streets, decreasing homelessness.) And there is no awkward morning-after because once you have pumped and humped her, you can kick her right out, right then and there. And no worries, she will survive just fine without you. Because not only did you take her off the streets for some brief moments of comfort, but you also gave her money for her work, so you employed her. (A double bonus: you are contributing to the economy and decreasing unemployment.) She will clean herself up and go on to the next cock, just like that. Why? Because hookers are reusable, and somehow, some way that has got to be good for the environment, right? (It's like recycling.) So do something right for a change. Fuck a hooker. It's the humanitarian thing to do.
No matter how unfair it seems, sometimes hookers get busted and hauled off to jail. We know, it just doesn't make sense, considering the public service they provide. But it happens, regardless. But if a hooker is street smart and stacked, she can be in and out of jail in no time. Just check out Sarah Sunshine. She knows that the only ace in the hole that she has is her ability to drain a cock in no time flat, so she used that to her advantage, offering the officer on duty her hooker booty. And who could say no to a thorough cock-sucking and tight pussy? Some people have a get-out-of-jail-free card, and some people, like Sarah, have a get-out-of-jail-free cunt.