Popular Hooker Videos (Page 5)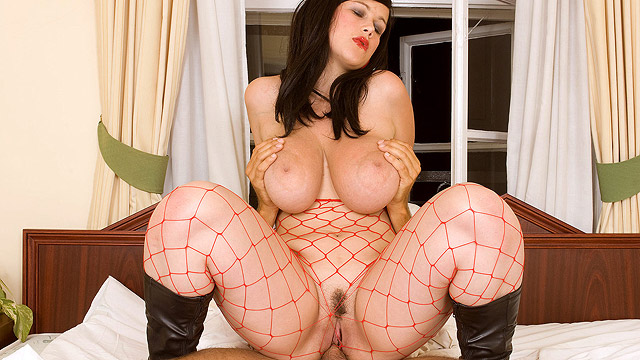 If you travel, you know how taxing it can be to get off a flight in a strange place, shuffle through the airport, find your luggage, get transportation, and finally make your way to your hotel. It can be downright exhausting. And when you get to your hotel room and settle in, chances are you will be bored in about 8.5 seconds. That's why there is a great thing called room service. Room service is great because it provides instant satisfaction for you. Want a burger? Call room service and they will bring it to you. Want some extra towels? Room service has you covered. But what about your other, baser needs? Can room service bring you some chesty nookie, too? It can at this hotel. Just one phone call and a big tit hooker will come to your room and service your dick! Now that's what we call five-star service. Watch as horny street slut, Terry Nova, makes her way to this lonely traveler's room to make him feel at home in her pussy. You gotta love those hookers, servicing you with a smile!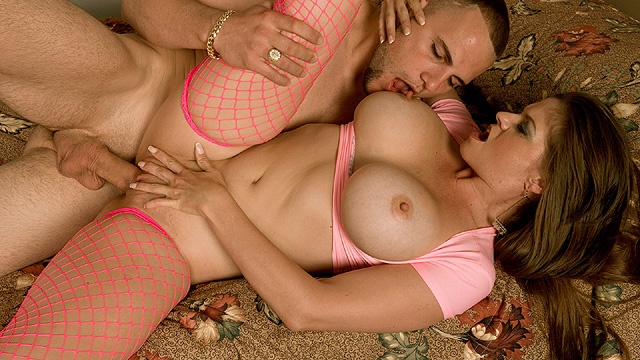 Wasn't it Tesla who said, "Signs, signs, everywhere the signs. Blocking out the scenery, breaking my mind. Do this, don't do that, can't you read the signs?" And boy is it true. There are signs everywhere these days. Signs to tell us to stop, to yield, and that there's construction ahead. Signs have become so popular that even stacked street walkers are using them to instruct their customers on how they should be handled. Look at horny June Summers. She is a hooker who uses "sign" language to tell her Johns what she likes. Just take a look at her top. It says, "Pet my Pussy." That is pretty straight-forward instruction. So, go ahead, pet her pussy, we doubt she will mind. (If she does it's false advertising!) We'd also like to point out that although it's not on a sign, we do love it when June says, "That's good slut pussy, right?" Any woman who refers to her cock-box as a "Slut pussy" is a winner in our book.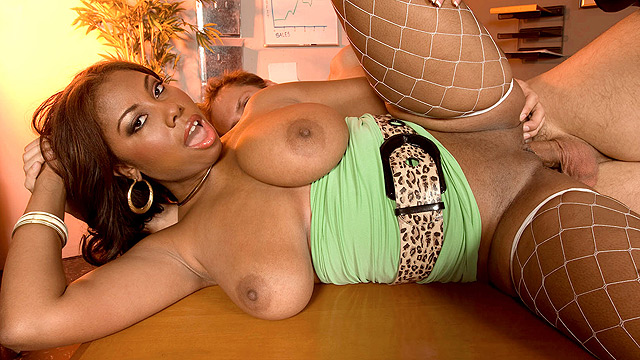 Mr. Swiss is a stressed out corporate type who loves to fuck busty hookers. When he calls his regular ho, Candace Von, for some nut-alleviation, she is already with a John...IN the john. When he insists that she bring her sweet tits over ASAP, Candace is faced with a tough decision: Does she finish sucking the cock she is with, or does she ditch that dude for the guy with the bucks? What does Ms. Von do? She makes her fucking money, that's what. After haggling with the office manager at the front desk, Candace struts her jiggly titties and plump, ghetto booty into this uptight yuppie's office and this guy does what we all would love to do to Candace...he fucks her for all she is worth. And boy is she worth a lot, because Ms. Von demands that he pay her for her goods. This guy obviously knows a good deal when he sees one because before you know it, he is whipping out the greenbacks and his cock and Ms. Von is taking everything he's got. First she tells him to play with her titties and then she gives him a premium cock sucking, deep-throating that dick all the way down to his nuts. After some serious doggie-style, Candace jumps on this John's Johnson and rides him like it's going out of style. Then, just because this bitch is the best hooker there is, she lets him bust all up in her mouth and she spits it out all over her tits so she can play with his nutsauce. When she's done, it's business time and she makes this motherfucker pay her for her services. If only chesty hookers wandered into all of our offices...it would make a HARD day at work take on a whole new meaning!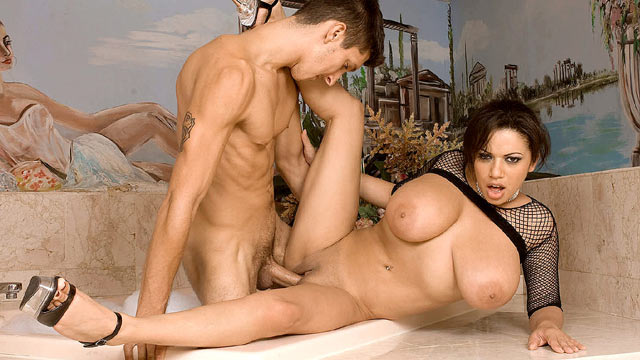 Alexis is a big-titted hooker. She is a really good hooker. She is like the Bruce Lee of hookers. The kind of ho that you know really loves her job. The kind of ho that gives it her all. She is the kind of hooker who will blow you, fuck you, let you stick some of your body parts in her ass and then she will eat your cum. Alexis is the kind of hooker all hookers should aspire to be. Watch her be all that she can be on this guy's rod. She picks him up in the street and then takes his meat to go, leading him to the Jacuzzi room in a rent-by-the-hour hotel. Here, in the comfort of this seedy hotel room, she works his junk like a seasoned pro, and she works her crisp British accent, too, which is very fucking hot! So you're probably wondering where all the big-titted, British cock-rockers are hanging out in your area, right? You'll just have to find the right corner, buddy.
Almost anyone can afford one street hooker. Most can afford two. But three? Well, you'd better get your best buddy involved in that one, because that's every man's dream. In this case, Veronica Rayne, Whitney Stevens and Candace Von, all of whom play the role of busty street slut very convincingly, fulfill the fantasy. Too convincingly. Now, fill in your fantasy. Fuck one of them or fuck all of them? Tag team 'em with your buddy or do 'em all together? Fuck their tits, fuck their mouths or fuck their pussies. Whatever you choose to do, this much is certain: Everybody's going to have fun, everybody's going to cum and everybody's going to get paid. That's the great thing about street sluts. They always give you what you want.