Sara Jay is the hardest-working hooker in ho business. She pounds the pavement looking for a man with the bucks to pound her cunt. And lo and behold! She bumps into this perverted businessman who is looking for a little bit of busty business, man. She approaches him and he starts trying to strike a bargain with Sara right away. Sara lets him know that he can't nickel and dime good pussy and hops into his car for their rendezvous in an abandoned garage. Not only does she lay that pussy and those tits on him, but she also talks to him about add-ons that will cost him only a little bit more but are guaranteed to give him pleasure. That's right, Sara Jay is a hooker with upgrades. For just a little more dough she gives an extra blow. For just a little more cash you can work that ass. These are a pair of perkies that come with perks.
Welcome to Madame G's House of Boobs, a happy, little brothel where the chicks are busty and fuck heartily. When you come to the House of Boobs, you get the best boobs in the land, man. Madame G's a pimp with an eye for tit talent and she runs a tight ship. When one of her girls tries to get into the boob lineup by stuffing her bra, Madame G shuts her down by ripping her falsies out and sends her packing. So, when our John (who is apparently a baller of epic proportions and can spend lots o' bucks on busty fucks) comes to the House of Boobs with five grand to blow on a good roll in the hay, the only girl who will suffice is the cream of the crop, Alexis Silver. Alexis does her thing, giving him quite the masturbation show, giving him a glimpse at the goods he has just leased. Then she gives him a good blowing and tit-fucking right before she mounts him for the ride of his life. In the end, it's a great moment in purchasing history. Cab ride to Madame G's: $18 Purchasing of a busty hooker: $5000 Blowing your load all over a pair of perfect, huge tits: Priceless.
Top-Rated Hooker Videos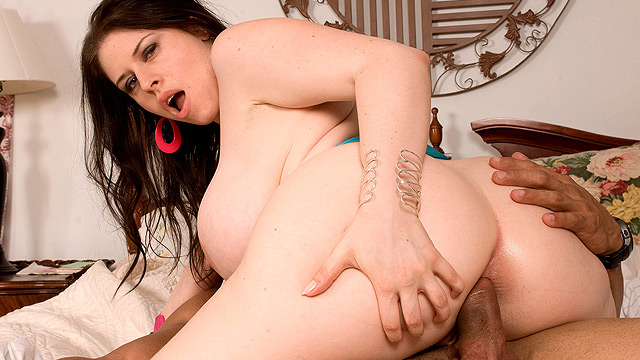 Daphne Rosen is one of our favorite big titted hookers of all time because she is fuckin' good at, well, fucking. She fucks like she means it. Nothing is spared to bring about the hottest and hugest load that she can. She uses her mouth first, sucking and coaxing the cock with her tonsils. She uses her hands, giving the dick a firm grip and some serious tug-action. She puts the penis in a choke hold with her vise-tight cunt, taking a pounding like an old-school wrestler. And just when you think she might be down for the count, she flips around and says, "Fuck me in the ass, Honey!" and she lays down the ass-tunnel on this pipe like a champion. And she knows that to want not, one must waste not, too. That's why she doesn't let one drop of that cum go to waste. Not one splattering because all that fucking makes her tired and she takes a mouth-load of vitamin cum, since it's chock-full of protein. Yes, Daphne Rosen is a five-star whore and we love her and her jaw full of jizz!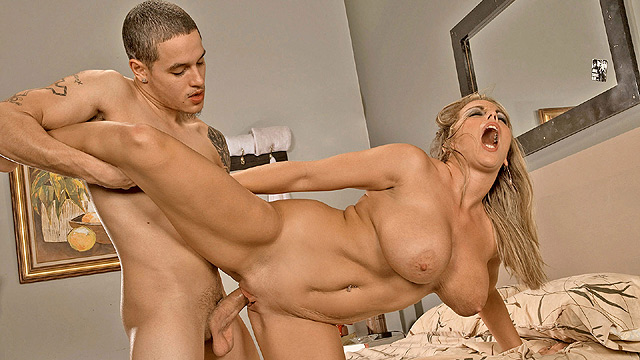 Ever get that feeling, like you're never going to find Ms. Right? Like, that wonderful lady you are supposed to ride off into the sunset with is never going to show up? Like you are never going to be able to say, "You complete me," to some amazing woman, and mean it? Well, hate to bust your bubble, friend, but chances are, you are right. Ms. Right is probably not coming your way. But here is a consolation prize...Ms. Right Now. You see, Ms. Right Now is just around the corner. Actually, she is ON the corner. Ms. Right Now is a modified version of Ms. Right and she comes with lots of perks, and that includes HUGE perky titties, too. You can tell Ms. Right Now to suck your dick, to lick your sack and to gobble up your nutritious load, and you know what? She will. And you don't have to spend a whole paycheck on a ring, either. Because Ms. Right Now is yours with only a small, one-time payment. So why waste your time on daydreams? Stop thinking about the what if's and start thinking about huge tits. Go out and find your Ms. Right Now...she is on a corner near you.