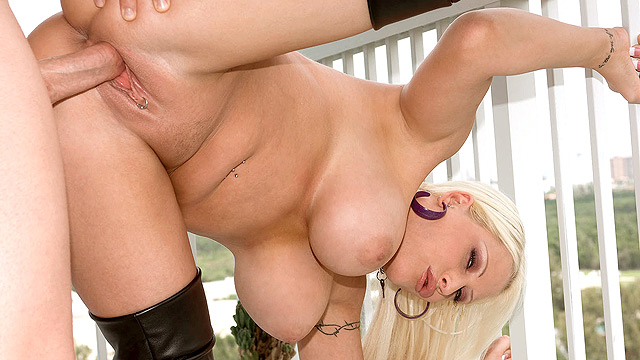 So you're an ordinary dude and your license has been suspended and now you are stuck riding public transportation. You're waiting for the bus to show up so you can go and visit your girlfriend who doesn't even have the courtesy to come and pick you up. Well, someone DOES want to pick you up...Candy Manson does. In fact, this busty bitch wants you to abandon your post at the bust stop and come back to her place for some afternoon delight. This chick is smokin' hot and her huge hooters are practically coming out of her dress...what does she want with an average Joe like you? What's the catch? The catch is that this bitch gets paid so you can get laid. That's right...she's a BIG TIT HOOKER and you can be her next trick for a low fee of $200. According to Candy, she is the, "best, little cocksucker in town," and she takes you home so she can prove it. Candy sucks cock for about 15 minutes, because when someone says they are the BEST cocksucker it takes some time to demonstrate. Then she bends herself in every position so she can get dicked down as hard as possible. Then she asks to be coated in nut juice because that's how dirty girls like to moisturize their knockers. Then, when all is said and done, Candy licks that man spray off her hooters, because that's how dirty girls get nourishment. What's the best part about getting fucked by this huge-mammed ho? The part where she drives you to an ATM to get her money. Yeah, this is one bitch who won't have you riding the bus...but sure will let you ride a train on her ass!
More Big Tits »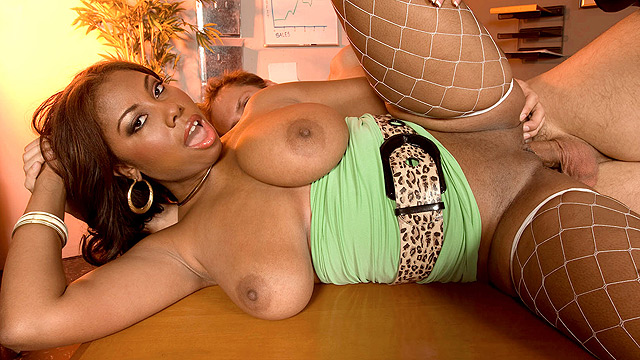 Mr. Swiss is a stressed out corporate type who loves to fuck busty hookers. When he calls his regular ho, Candace Von, for some nut-alleviation, she is already with a John...IN the john. When he insists that she bring her sweet tits over ASAP, Candace is faced with a tough decision: Does she finish sucking the cock she is with, or does she ditch that dude for the guy with the bucks? What does Ms. Von do? She makes her fucking money, that's what. After haggling with the office manager at the front desk, Candace struts her jiggly titties and plump, ghetto booty into this uptight yuppie's office and this guy does what we all would love to do to Candace...he fucks her for all she is worth. And boy is she worth a lot, because Ms. Von demands that he pay her for her goods. This guy obviously knows a good deal when he sees one because before you know it, he is whipping out the greenbacks and his cock and Ms. Von is taking everything he's got. First she tells him to play with her titties and then she gives him a premium cock sucking, deep-throating that dick all the way down to his nuts. After some serious doggie-style, Candace jumps on this John's Johnson and rides him like it's going out of style. Then, just because this bitch is the best hooker there is, she lets him bust all up in her mouth and she spits it out all over her tits so she can play with his nutsauce. When she's done, it's business time and she makes this motherfucker pay her for her services. If only chesty hookers wandered into all of our offices...it would make a HARD day at work take on a whole new meaning!
More Big Tits »
Top-Rated Hooker Videos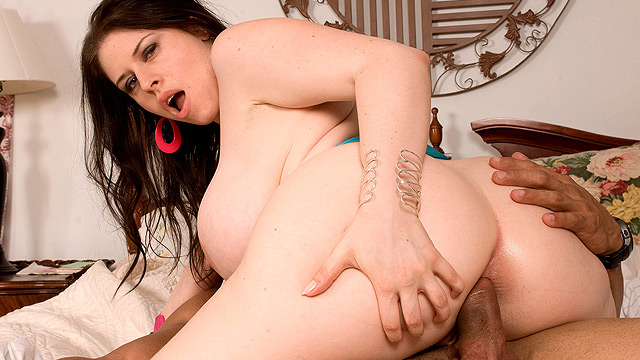 Daphne Rosen is one of our favorite big titted hookers of all time because she is fuckin' good at, well, fucking. She fucks like she means it. Nothing is spared to bring about the hottest and hugest load that she can. She uses her mouth first, sucking and coaxing the cock with her tonsils. She uses her hands, giving the dick a firm grip and some serious tug-action. She puts the penis in a choke hold with her vise-tight cunt, taking a pounding like an old-school wrestler. And just when you think she might be down for the count, she flips around and says, "Fuck me in the ass, Honey!" and she lays down the ass-tunnel on this pipe like a champion. And she knows that to want not, one must waste not, too. That's why she doesn't let one drop of that cum go to waste. Not one splattering because all that fucking makes her tired and she takes a mouth-load of vitamin cum, since it's chock-full of protein. Yes, Daphne Rosen is a five-star whore and we love her and her jaw full of jizz!
More Big Tits »
A girl's gotta do what a girl's gotta do. Even if that means she has to stand on the side of the road and offer up her goodies to the cars that zoom by. That's what Dylan Ryder does. She is strapped for cash and instead of pawning some jewelery or getting a part-time job, she is putting her pussy up for sale. Hey, wouldn't you do the same if you needed money to do something uber-important...like get your nails done? You can't blame Dylan for going out and fundraising via fucking. She is built for sin with big, juicy tits, a pouty mouth that practically belongs wrapped around your shaft and a pussy that will squeeze every last drop out of your nuts. But be careful...this gold-digging ho will squeeze every last dime out of you, too. But then again, it might be worth it.
More Big Tits »