Alexis Silver's Photos and Videos
Welcome to Madame G's House of Boobs, a happy, little brothel where the chicks are busty and fuck heartily. When you come to the House of Boobs, you get the best boobs in the land, man. Madame G's a pimp with an eye for tit talent and she runs a tight ship. When one of her girls tries to get into the boob lineup by stuffing her bra, Madame G shuts her down by ripping her falsies out and sends her packing. So, when our John (who is apparently a baller of epic proportions and can spend lots o' bucks on busty fucks) comes to the House of Boobs with five grand to blow on a good roll in the hay, the only girl who will suffice is the cream of the crop, Alexis Silver. Alexis does her thing, giving him quite the masturbation show, giving him a glimpse at the goods he has just leased. Then she gives him a good blowing and tit-fucking right before she mounts him for the ride of his life. In the end, it's a great moment in purchasing history. Cab ride to Madame G's: $18 Purchasing of a busty hooker: $5000 Blowing your load all over a pair of perfect, huge tits: Priceless.
More Big Tits »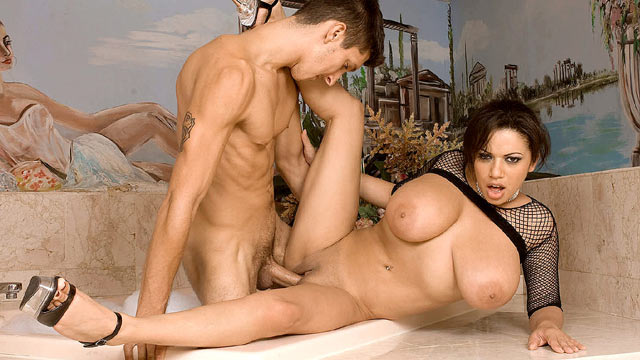 Alexis is a big-titted hooker. She is a really good hooker. She is like the Bruce Lee of hookers. The kind of ho that you know really loves her job. The kind of ho that gives it her all. She is the kind of hooker who will blow you, fuck you, let you stick some of your body parts in her ass and then she will eat your cum. Alexis is the kind of hooker all hookers should aspire to be. Watch her be all that she can be on this guy's rod. She picks him up in the street and then takes his meat to go, leading him to the Jacuzzi room in a rent-by-the-hour hotel. Here, in the comfort of this seedy hotel room, she works his junk like a seasoned pro, and she works her crisp British accent, too, which is very fucking hot! So you're probably wondering where all the big-titted, British cock-rockers are hanging out in your area, right? You'll just have to find the right corner, buddy.
More Big Tits »
Alexis Silver on Other Sites