So you're driving along, minding your business, when all of a sudden you see a bargain buy on the side of the road that you just can't say no to. It's one of those "I gotta have it!" impulse buys that make you reach for your wallet before you have even thought it through. What is it, you ask? No, it's not a boat. Nope, it's not your dream car. It's a blonde, bimbolicious, mega-racked hooker who is spilling out of her too-tight, too-short purple dress. And guess what? She is so reasonably priced that you can afford her right then and there, without even having to go to the ATM. This working girl is all business and takes you to the hotel ASAP because she can't wait to suck your sac and rod, man. And boy does this trick suck dick! She is the type of ho that talks with her mouth full, saliva dribbling out of her mouth, while she tries to push your dick even further into her throat. We don't know about you, but that sounds like a good convo to us! Carly (her hooker name, of course) is not only a skeezer, but she is also a pleaser, taking her time to inquire how you would like it like she was taking your fast food order. "How would you like your blowjob today, sir?" She gives a vigorous cock-sucking performance and then hops on for the ride of her life. With her exuberant fucking, and her scandalous dirty talking, we have to say that Carly really does work hard for the money. One of the better hookers we've come across.
When we first saw Lavish we thought she looked like pop chanteuse, Rihanna. You know, the chick that sings that Umbrella song. Well, we imagine that the conversation between her and this John went something like this: "You look like Rihanna," "Yeah, people tell me that. Want me to suck your dick?" You'd have to be nuts to refuse that offer. Lavish may not have the biggest tits out there, but she makes up for her quantity with the quality of her cock-sucking and pussy popping. You see, she says she likes to fuck the dick and when she does, she likes to imagine herself on the dance floor, throwing her coochie and her ass around. She says the reason she makes so much dough as a hooker is because most guys want to fuck a black chick that looks like one of those video hos. "I just pop my ass around and drop it down and grind it on their dicks and them boys go crazy and give me all that money, baby!" Well-said, Lavish. You keep on dirty dancin' your way to the bank!
Top-Rated Hooker Videos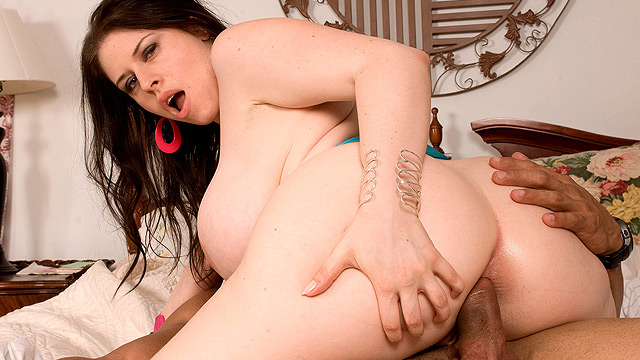 Daphne Rosen is one of our favorite big titted hookers of all time because she is fuckin' good at, well, fucking. She fucks like she means it. Nothing is spared to bring about the hottest and hugest load that she can. She uses her mouth first, sucking and coaxing the cock with her tonsils. She uses her hands, giving the dick a firm grip and some serious tug-action. She puts the penis in a choke hold with her vise-tight cunt, taking a pounding like an old-school wrestler. And just when you think she might be down for the count, she flips around and says, "Fuck me in the ass, Honey!" and she lays down the ass-tunnel on this pipe like a champion. And she knows that to want not, one must waste not, too. That's why she doesn't let one drop of that cum go to waste. Not one splattering because all that fucking makes her tired and she takes a mouth-load of vitamin cum, since it's chock-full of protein. Yes, Daphne Rosen is a five-star whore and we love her and her jaw full of jizz!
A girl's gotta do what a girl's gotta do. Even if that means she has to stand on the side of the road and offer up her goodies to the cars that zoom by. That's what Dylan Ryder does. She is strapped for cash and instead of pawning some jewelery or getting a part-time job, she is putting her pussy up for sale. Hey, wouldn't you do the same if you needed money to do something uber-important...like get your nails done? You can't blame Dylan for going out and fundraising via fucking. She is built for sin with big, juicy tits, a pouty mouth that practically belongs wrapped around your shaft and a pussy that will squeeze every last drop out of your nuts. But be careful...this gold-digging ho will squeeze every last dime out of you, too. But then again, it might be worth it.